Penis size and the retractile penis
Size is such a big thing for men, though few women really bother about it. (This website has a good review of penis size, and what women really think about it.
For the record, therefore:
The average size of a non-erect white adult male penis is 3.4 inches long by 3.9 in girth
The average size of a white male's erection is 5.9 inches long by 5.0 inches around
Over 60 percent of men are between 5 and 6.5 inches long when erect
Almost one man in 15 has an erection less than 5 inches long, and almost one man in ten has an erection about 4 and three quarters inches in length.
The penis can vary from one inch when erect to 12 inches erect, though such huge variations of size are unusual. The smallest flaccid penis is usually the retractile penis, one which has a tendency to retract into the sheath of the foreskin or even the body cavity. Between 1 and 3 % of men have a penis like this. The photos below show some of the penises which fit this category becoming erect: the obvious point being that though they may be very small when flaccid, they can be average size when erect, though this is not always the case.
Source: The Penis Website
The retractile penis
---
Smaller than average penis size
In cases like the one below, it's reasonable to assume some developmental abnormality has affected the growth of the penis.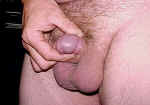 ---
The abnormally large penis
There are many more images of large penises at Images of Size. The first picture shown above shows a guy with a twelve inch erection. He calls himself Gunner.
Free Report Reveals How To Develop Massive Sexual Stamina and Complete Ejaculatory Control - Easily!
Ejaculation By Command offers a completely free report which shows in complete detail how to totally satisfy any woman in bed. You can easily develop endless sexual stamina, have the power to ejaculate when you wish, and choose when to ejaculate during sex - no matter how long it lasts! Click here to get the free report now and see how you can become irresistible to women!
(Note - the free report is a PDF document and takes a few moments to download. Save it to your PC or read it in your browser.)
---
Men: Find Out How To Easily Give Your Partner Massive Orgasms - Every Time You Have Sex!
If you'd like a helping hand to get your female partner to orgasm, check out Jason Julius's amazing program "The Female Orgasm Revealed". This astonishing work includes dozens of reliable techniques all guaranteed to get a woman to orgasm, each and every time you enjoy sex.
Click here to discover the secret of easy female orgasms!